A physiatrist specializing in the treatment of musculoskeletal pain, Dr. Warren Slaten has been at the forefront of regenerative treatments for pain conditions. Dr. Slaten has dedicated himself to seeking out the most effective treatments for pain with an emphasis on using the body's own healing properties. To achieve this, he has worked and trained with many leaders of the field. He has integrated this learning into a comprehensive approach that treats the injury naturally and improves one's overall health. He has published research and review articles on a wide range of topics including low back pain, knee pain, reflex sympathetic dystrophy (a nerve pain condition) and spinal cord injury.
Dr. Slaten is a board-certified physiatrist who has trained at the best institutions from medical school through fellowship training. After graduating magna cum laude and Phi Beta Kappa from Washington University in St. Louis, he graduated from Washington University Medical School in St. Louis. He completed a residency in physical medicine and rehabilitation at University of Medicine and Dentistry of New Jersey at Newark and Kessler Institute for Rehabilitation. After a few years in practice, he completed a Spine Fellowship at Florida Spine Institute in Clearwater. He is board-certified in physical medicine and rehabilitation with subspecialty certification in Pain Medicine.
He has built on this base of training and has continued to develop skills and new expertise throughout his career. This has included certification in medical acupuncture, ozone therapy and bioidentical hormone replacement with training in musculoskeletal ultrasound, prolotherapy, neural prolotherapy, platelet-rich plasma injections, stem cell therapies and neural therapy.
Dr. Slaten has served as Associate Medical Director of Capitol Rehabilitation Clinic in Milwaukee. He established the Integrative Pain Treatment Center in Milwaukee and served as its Medical Director. He was a Pain Physiatrist at Rockland Orthopedics and Sports Medicine in Airmont, NY.
He has now brought all of his experience and expertise together to establish the Regenerative Healing Center.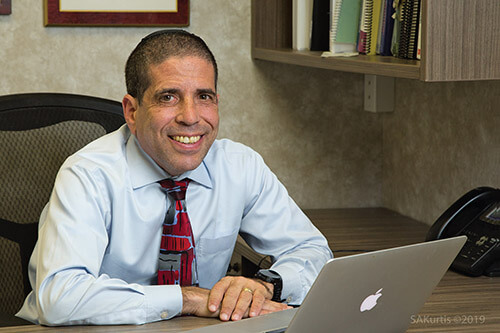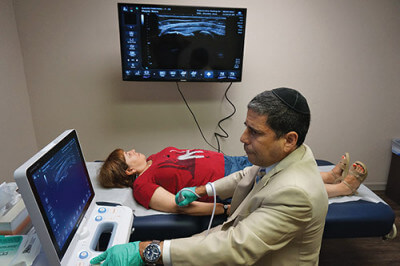 Our Office
Our office is highlighted by our great office manager Karin Slaten. Karin brings her organizational talents with a Masters in Business Administration from Washington University in St. Louis. More important, she brings her warm touch which makes all who enter our office feel at home and welcome.
The office environment is enhanced by a slate waterfall in the front room. This helps provide a pleasant, relaxing environment when you enter the office. For those waiting for a friend or family member, the background of the waterfall makes the wait pleasant.
We offer our patients and patients' guests ozonated water. This unique beverage has a distinct flavor that enhances the office experience. Some find the drink enjoyable while others feel it gives them an energy boost. Either way, it helps make your visit to our office an enjoyable experience.
You can enjoy our special Ion Cleanse foot bath. Besides providing relaxation, the ion plate helps the body detoxify. The therapeutic value of this detoxification for certain neurologic conditions has been established with medical studies. Some enjoy the Ion Cleanse as part of our office experience and others love the Ion Cleanse so much that they get one for their home use.
Our office places a premium on providing a clean, healthy environment. As part of this commitment, we keep the air in our office clean with a Hi Tech Air Solutions Air Reactor. This system destroys all airborne and surface contaminants. Thus, you can feel comfortable knowing that you will be breathing in clean, healthy air during your visit.
In summary, our staff will make you feel comfortable and welcome while our facility provides a pleasurable experience. In addition to the enjoyable experience, the ozonated water, Ion Cleanse and Air Reactor enhance wellness and complement the healing techniques that are the hallmarks of the Regenerative Healing Center